Digital Kiosks
Loud and Clear Static Ads
Deliver your messages loud and clear with high definition digital dynamic advertising. These units draw a lot of attention being totally illuminated and are a large 8 ft long and over 4 ft in height. These units are wall mounted at eye level to maximize the impact. We have also designed the digital kiosk with a variety of facility specific content located in the centre of the unit, this draws the viewers to congregate for vital information.
Media Deployment Kiosks
Fully automated "hang & plug" digital media centre for deployment of local customized content and high definition advertising
Capable of comporting intermittent display wide corporate sponsorship ads for the added benefit of increased revenue generation
Materials: 55" commercial grade LED displays w/ customized software enclosed within a protective aluminum & clear museum grade acrylic
Power Consumption:
55" full HD 1080P displays: 55 Watts (0.5 AMP @ 120v)
Futuresign Media Player: 10 Watts (2 AMP @ 5v)
Media Play Specifications:
Operating System: Windows 10
System Memory: 2GB DDR3L
Storage: 32GB
Processor: Intel Atom Z3735F
Graphics: IHD Graphics, 1 x HDMI 1.4
Mechanical Chassis: 103.4mmx37.6mmx12.5mm
Power: 5V, 2A wall-mount AC-DC
Operating Temp: 0 degrees to + 35 degrees
Dimensions: 48" high x 96" wide x 4" deep
Warranty: 3 yr ltd mfrs warranty on component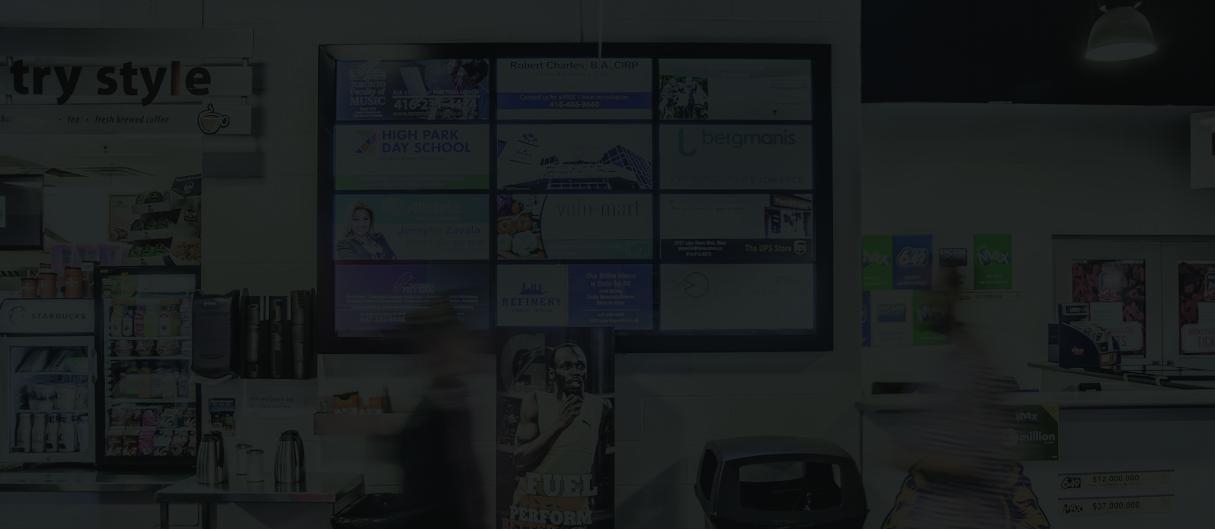 Digital Displays
Join in on the Digital Media Age
Using our Digital media program to promote your business products or service, has many amazing benefits. First we must understand that these screens are only placed in high traffic flow Arenas and Community Centre's that pass our high standards. Secondly they are placed in strategic locations in each facility, main lobby seating and standing areas where parents wait for their children during practices, before and after games. Thirdly our media program always consisted of broadcasting some or all of the following information along side of community business ads, Community centre programs, city or township special events, room assignments for hockey parents or just some good TV entertainment. (hockey games, news etc).
This form of advertising carries a multitude of benefits due to its highly customizable and real-time aspects assisting clients in achieving a number of goals, including (but not limited to):
Promote products/services based on the target demographic of varying facility locations
Advertise limited offers and specials
Promote certain high margin items
Change messaging faster, easier, and fess costly than static signage
Digital screens range in size between 42" and 60"Clients can also create there own direct network to multiple screens within one facility or many facilities within a selected municipality or many municipalities. (based on your targeted demographic)
Programs available for monthly artwork update changes.
Added Digital Solution
The TV scheduler contains two parts, the first section contains scheduled events/programs of a facility or the change room assignments for hockey. The second section contains a directory of ADS of local businesses messaging about products or services beneficial to both local people as well as the visitors from out of town (Personal Care, Automotive, Fast food, Pubs and Fine Dining Restaurants, Etc.). These ads run on an average of every 2 to 3 minutes and each ad is 15 seconds in length. Other benefits in the 15 second ad allows the business the ability to show and tell more, change messages quickly and do so inexpensively.
Features & Benefits
Over 200 remotely accessible digital systems in operation in private businesses, municipal offices, community centres and arenas in southern and central Ontario
Systems come complete with Commercial Grade LCD Flat Panel Displays rated 24/7/365
Displays allow for remote access of content and contain safeguards which rapidly and automatically restore power (and internet) in the event of interruption
Systems contain all equipment for ease of installation and servicing – "hang & plug"
Key system components are fanless (i.e. player/computer/server) and contain no external button controls - removes points of failureand mitigates tampering with display
Rink Boards
Grass Roots Advertising/Relentless Community Exposure
In a time where companies are striving to connect with their communities, what better way to do so, then through having great exposure where our Families gather and our children play in our great, all-Canadian community arenas. These facilities support many programs; Minor hockey, figure skating, learn to skate, skill and drills, public skating, senior skates and as well, our many adult leagues. These are the people that can make a difference to the local business. Your rink board will be seen by hundreds of teams, other ice activity participants and the thousands of viewers in the audience.
How Technology and Community Advertising Work Together:
The times are changing SMART PHONES, TABS, IPADS and HANDY CAMS have become a part of life. Now more than ever RINK BOARD exposure has taken off. Parents and other family members taking pictures and videoing has gone crazy. Texting pictures to family and friends can be done in an instant. Face book, instagram and scrape book. Family digital achieves with pictures of your Business logo, colors' and slogans all in the background, all part of the family picture day chrome carted up on the family TV.
More and more are Local community papers and community TV are covering our local games and events in these facilities.
SO DON'T BE SURPRISED TO SEE YOUR RINK BOARD IN THE LOCAL NEWS PAPERS OR COMMUNITY TV CHANNELS.
Wall Signs
Large Loud and Clear Static Ads
Static wall signage offers highly visible static advertising placed in key high traffic areas of our community centre's and arena facilities such as lobby and foyer areas, allowing clients to attract new locally based customers through increased name and brand recognition.
Banners and Wall Displays are such a versatile form of communication; customers should be able to spot your signs from a distance. They are perfect for getting the attention of your potential customers
Customers take cell phone pictures of or Google signs of interest for future reference on a product or service or they could call directly from the centre for food pickups, pricing, reservations or home or auto services etc.